How to Create an Interactive Map
Do you have a wealth of location data trapped as mere numbers on a spreadsheet?
Maptive can transform it into engaging narratives on interactive maps in just a few easy steps, empowering you not only to inform and persuade your audience but to do so with impact.
Your data is poised to shine-get ready to make an impression like never before.
CREATE YOUR FREE INTERACTIVE MAP NOW
Start Mapping Now

Whether you're in the midst of fine-tuning a sales strategy or orchestrating a logistical overhaul project for your business, learning how to create an interactive map will allow you to seamlessly present data and insights in an intuitively understandable format, a surefire way to foster consensus and drive progress.
With Maptive, you will create interactive maps to:
Collaborate with Effortless Precision: Say goodbye to communication breakdowns. Maptive streamlines teamwork by letting multiple people interact with your maps in real-time. No more deciphering complex spreadsheets—instead, your data takes on a new dimension, opening doors to shared insights and strategies.
Discover Fresh Perspectives and Untapped Opportunities: Every location point on your map has a story to tell. Maptive's dynamic features unravel these narratives, unveiling patterns and connections you might have missed. The result? Aha moments that fuel innovation and drive smarter decisions.
Build Beautiful Custom Maps Powered by Google: Elevate your maps from mere visuals to interactive masterpieces, all powered by the unparalleled precision of Google's mapping technology. Customize colors, labels, and layers, all while harnessing Google's geospatial power to make your data pop and resonate.
Image from Maptive Version 5 (Coming Soon)
How to Create an Interactive Map in a Few Easy Steps
Navigating the world of interactive mapping has never been simpler. Maptive's interactive map creator empowers you to effortlessly and easily import and transform up to 100,000 addresses into dynamic interactive maps, all within just a few steps.
Step 1: Sign up for a Maptive free trial account. Try Maptive for free and explore the many mapping tools we have to offer.
Step 2: Upload or input your data. You can upload data directly from an existing Google or Excel spreadsheet, copy and paste your data into Maptive, or enter it manually.
Step 3: Select "Create Map" to view your map. Your location data will now be plotted on a beautiful interactive map.
Step 4: Customize your map markers and base maps using Maptive's extensive customization settings.
Step 5: Color code your markers by data type using Maptive's marker grouping tool.
Step 6: Create heat maps, routes, drive time maps, view your data by geographic boundaries, create territories, and more using Maptive's other tools!
And the best part? The journey doesn't end here: when you embed or share your Maptive map, it's not a mere snapshot frozen in time. Changes you make within your interactive maps are reflected everywhere. Your interactive map evolves as your insights do, ensuring that your audience always sees the latest, most relevant information.
Who Uses Interactive Maps?
Sales and Marketing
Maptive helps sales and marketing teams identify potential new target markets, analyze customer demographics, and optimize sales territories. An interactive map can be used to visualize customer data, identify trends, and track the performance of marketing campaigns.
Real Estate
A big part of real estate agents' jobs involves mapping out properties and visualizing neighborhood demographics. Maptive's interactive maps can help them find the best properties for their clients and close more deals by matching their buying criteria with each property.
Delivery and Logistics
When they create interactive maps, Maptive helps delivery and logistics companies streamline their operations and optimize their delivery routes by mapping out customer locations and providing real-time traffic updates.
Healthcare
Healthcare providers often need to analyze patient data, create interactive maps to visualize healthcare resources, and track healthcare trends across territories. Maptive is a vital tool to help them do all of that, plus tracking the spread of diseases as we saw during the COVID-19 pandemic.
Government & Public Agencies
Maptive helps local and state governments and public agencies who need to visualize population data, analyze emergency response times, and optimize public services. This can help them to improve the efficiency of their services and make better decisions about resource allocation.
Tourism and Hospitality
The average traveler relies on well-built maps to find all the best spots to visit and enjoy during their trips. Maptive can help tourism businesses capitalize on those needs by embedding an interactive map of custom tours on their websites, showing points of interest, and synching with real-time updates of events and tourist activities.
What Can Maptive's Interactive Maps Do?
Blend the superpower of Google Maps with a toolbox of features that lets you shape your map just the way you want it. That's exactly what Maptive offers–by creating interactive maps, you get a toolkit that transforms ordinary maps into extraordinary interactive experiences.
Location Finder Tool
Ever wished you could guide customers to your nearest store without a hassle? Maptive's map builder got you covered. Add a store finder tool when creating maps and pop it onto your website–your customers will thank you.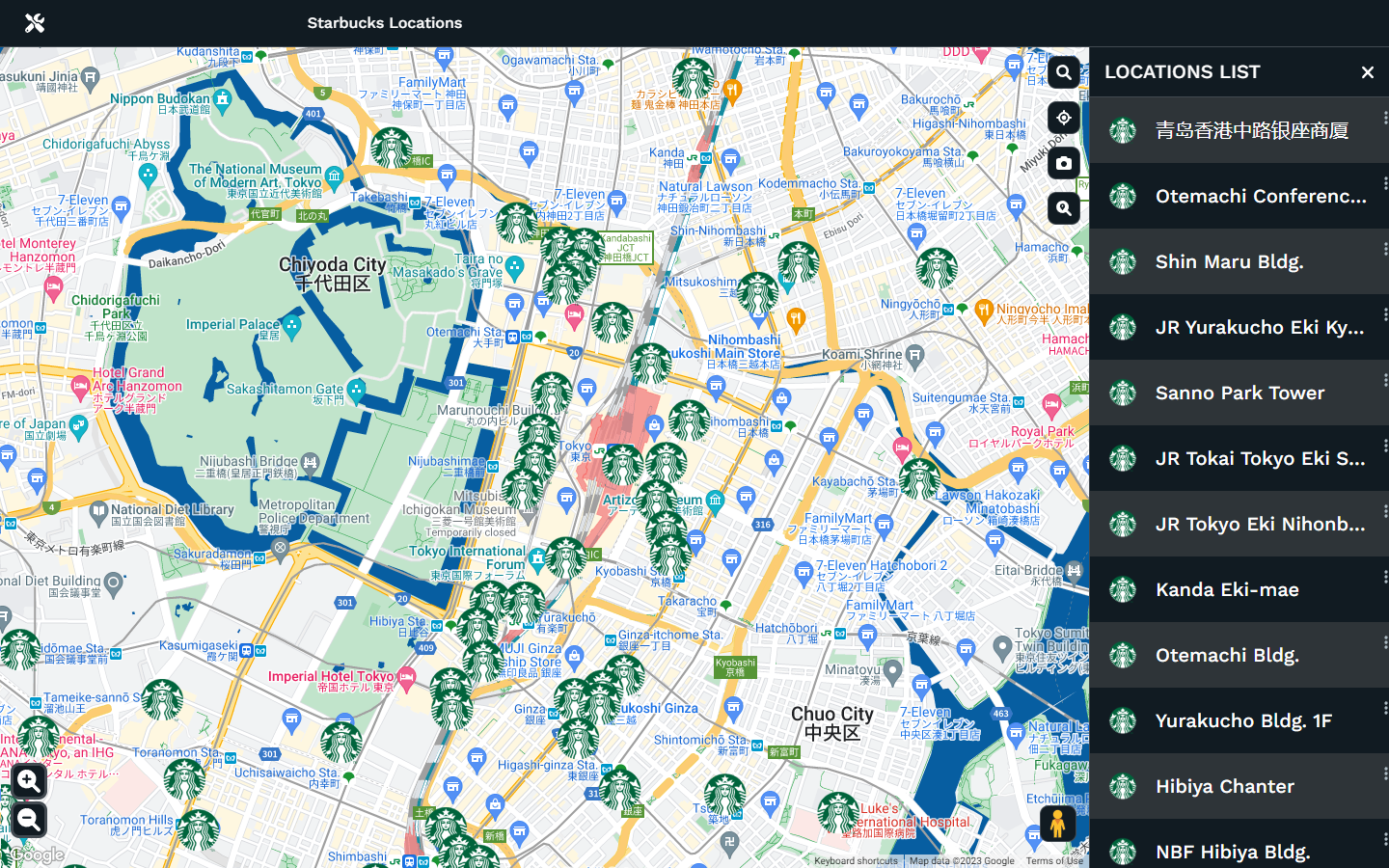 Image from Maptive Version 5 (Coming Soon)
Filter Tool
When you create maps, think of this like a sieve. You can group and sort your world map and data, making sure only the important stuff shows up. Say goodbye to clutter and focus on the facts that matter.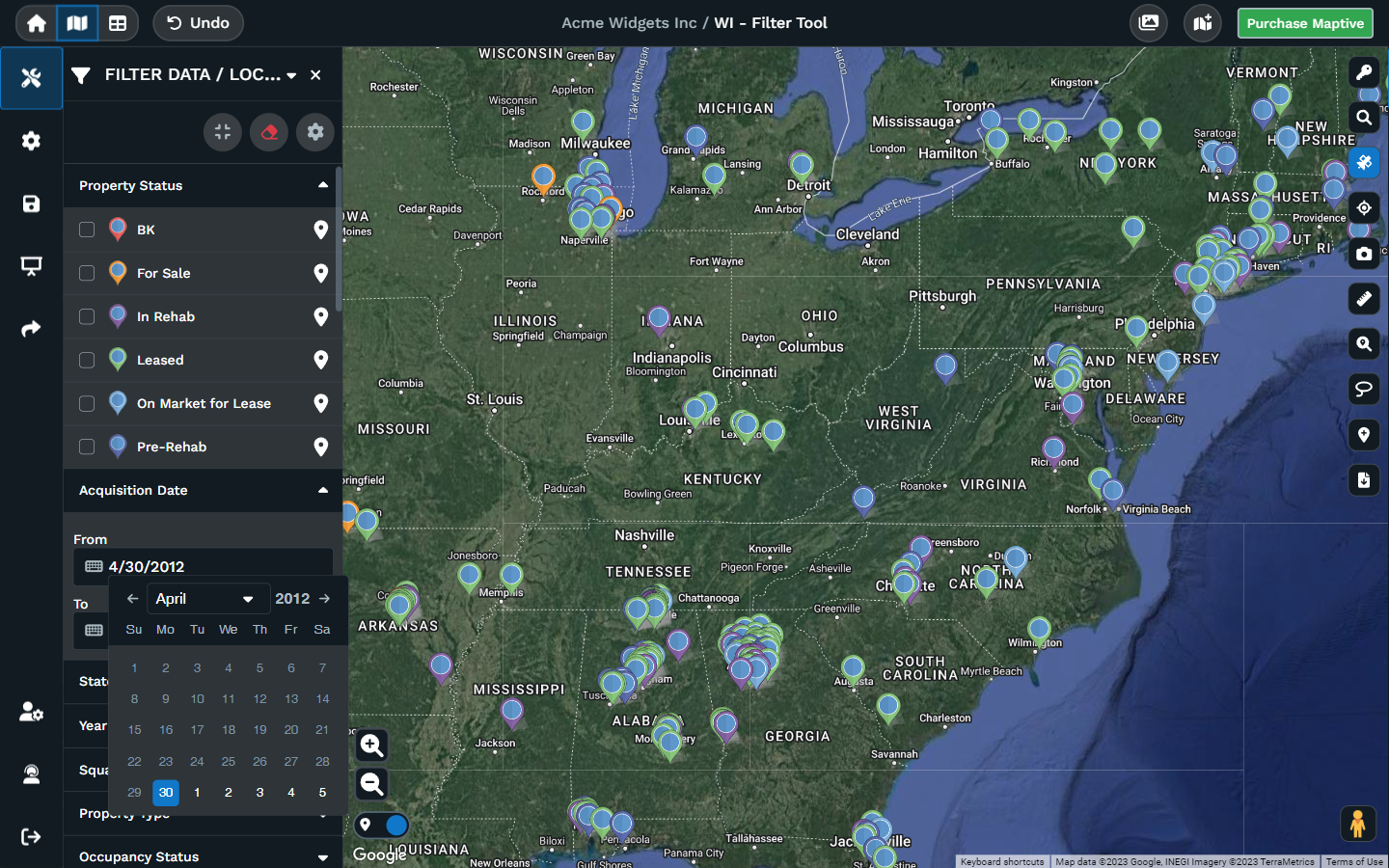 Image from Maptive Version 5 (Coming Soon)
Territory Creation Tools
Creating fair sales territories is a breeze with Maptive. Keep your customers evenly distributed and dive into the data to see which territories are shining and which need a bit of TLC.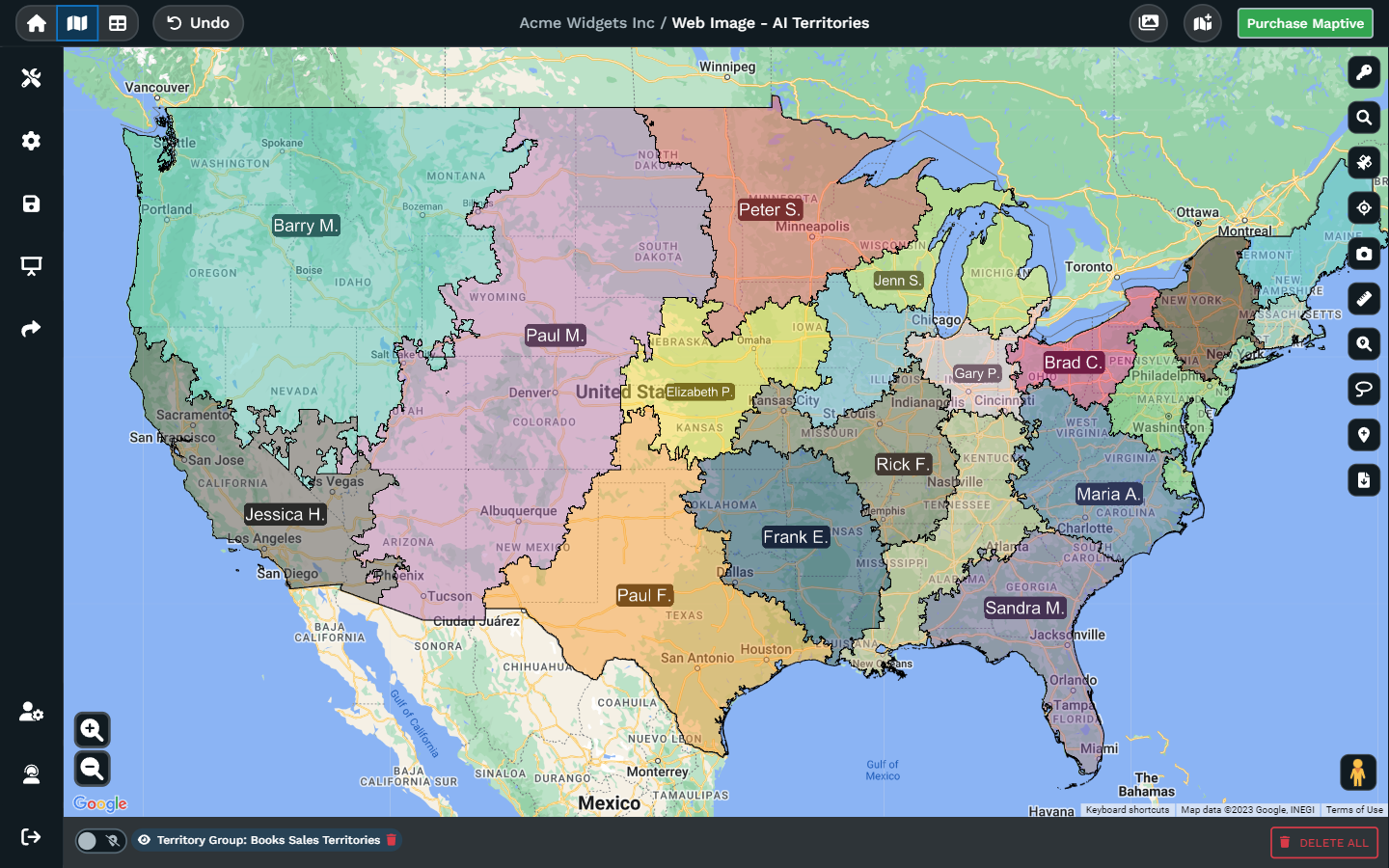 Image from Maptive Version 5 (Coming Soon)
Route Optimizer
Find the shortest path between two spots on your interactive map or even optimize routes between multiple places. Cut down on travel time and hit the road smarter.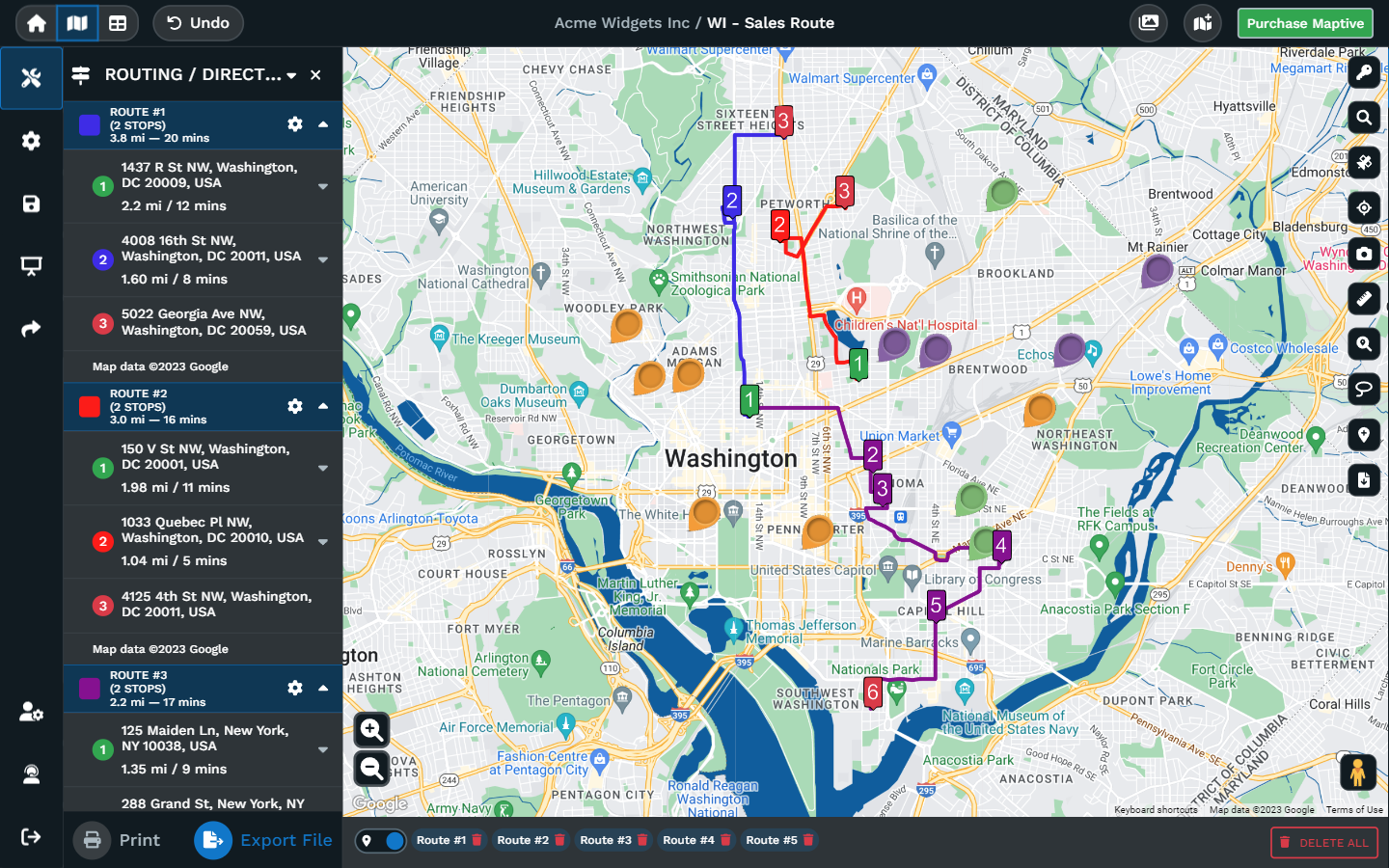 Image from Maptive Version 5 (Coming Soon)
Map Drawing
Draw different shapes, add text, create icons, display, and manage the color and opacity of shapes. With Maptive's comprehensive suite of map-drawing tools you can make your own custom map clearer and easier to understand.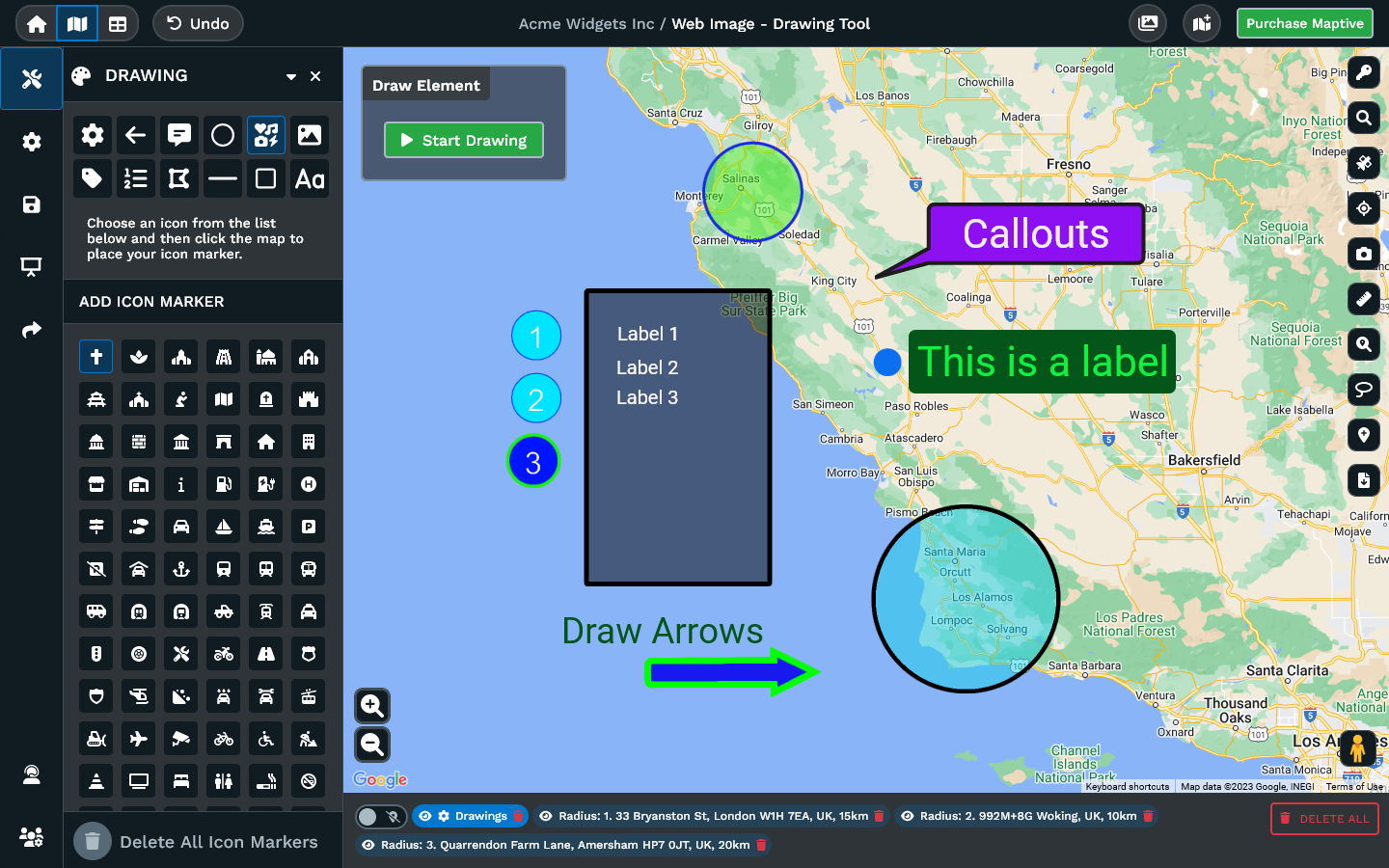 Image from Maptive Version 5 (Coming Soon)
Heat Map Generator
Imagine painting your custom map with colors that tell stories. The heat map generator does just that. It helps you find hotspots and cold zones, revealing where the action is and where you might need to search for a bit more info.

Image from Maptive Version 5 (Coming Soon)
Start mapping now!
Just follow these simple steps:
Double Click Then Copy & Paste Or
Drag And Drop Your Data Here
Important: Remember to include column headers in your data set. (like the example)
Date Security: Your data is transferred using encrypted https